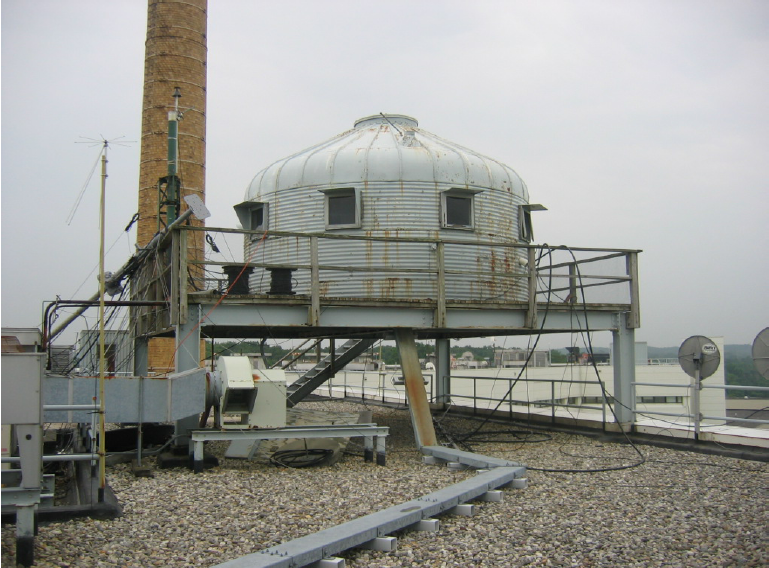 The grain bin that Fuller modified to 'invent' the Dymaxion Deployment Unit was manufactured by Butler Manufacturing, founded by Charles Butler and Emanuel Norquist. According to Butler Manufacturing:
R. Buckminster Fuller had gained international fame for his futuristic strategies and his concept of maximum dynamic utility. Fuller found inspiration in the design of Butler Manufacturing Company's mass-produced grain bins. In their design he saw low-cost, easy-to-make, fast, demountable, and movable housing for military troops and their families. The mutual admiration and enthusiasm between Buckminster Fuller and Emanuel Norquist propelled the project through design, testing, government approval, and production tooling in a matter of months. The project was ready for action when the reins were suddenly yanked. Steel remained on allocation, and the government could not reasonably divert enough to support large contracts on these novel houses. A few hundred were put to use by the Army for medical operating rooms and Signal Corps housing, but orders were meager. However, through its connections with Mr. Fuller, Butler Manufacturing Company gained the confidence to push the rigid frame design to the limit, launching pre-engineered building systems into worldwide acceptance and favor.
Dymaxion Deployment Units were put to use by the United States Army in Alaska, the Middle East and Fort Monmouth in New Jersey. The Fort Monmonth Command Historian maintains a copy of the U. S. Army manual on constructing a DDU. A Dymaxion Deployment Unit is on the roof of the Myer Center at Fort Monmonth. Three other DDUs are on south side of building 9011B. Two of the remaining DDUs are considered historic buildings. But at present there are no efforts to preserve them.
More information and contemporary photographs can be found at the DDU page of InfoAge.
- Trevor Blake
Trevor Blake is the author of the Buckminster Fuller Bibliography, available at synchronofile.com