Archive for November, 2008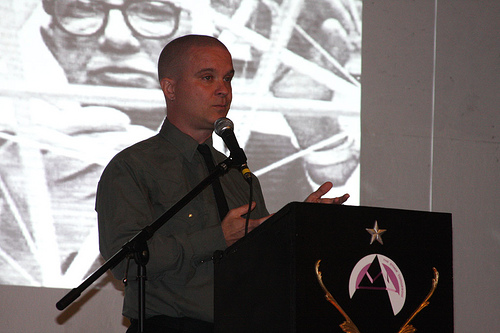 I will be delivering a new version of my one-hour lecture The Approximately Omnidirectional Ephemeralization of Richard Buckminster Fuller this weekend in Portland, Oregon.
When: 6pm Sunday 30 November 2008.
Where: Portland Center Stage, 128 NW Eleventh Avenue, Portland, Oregon.
Cost: Free! (but buy a ticket and stay for the play after my lecture).
Immediately after my lecture is a performance of R. Buckminster Fuller: THE HISTORY (and Mystery) OF THE UNIVERSE. I have seen this play several times and this production several times. I encourage everyone to please see this play!
- Trevor Blake
Trevor Blake is the author of the Buckminster Fuller Bibliography, available at synchronofile.com
Coming up on Monday, November 10 in the Ellyn Bye Studio: DYMAXION PORTLAND.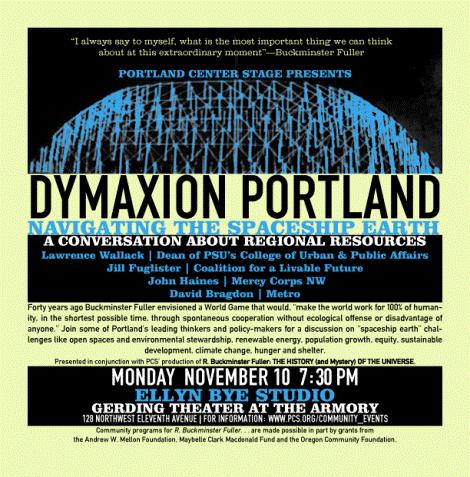 A conversation about regional resources with David Bragdon (Metro), John Haines (Mercy Corps NW), Jill Fuglister (Coalition for a Livable Future) and Lawrence Wallack (PSU's College of Urban and Public Affairs).
Join some of Portland's leading thinkers and policy-makers for a discussion on the region's "Spaceship Earth" challenges (like open spaces and environmental stewardship, renewable energy population growth, equity, sustainable development, climate change, hunger and affordable/adequate shelter). Presented in conjunction with Portland Center Stage's production of R. Buckminster Fuller: THE HISTORY (and Mystery) OF THE UNIVERSE.
Also: "The Approximately Omnidirectional Ephemeralization of Richard Buckminster Fuller" with Trevor Blake
Sunday, November 30, 6 pm (Mezzanine).  One of Portland's resident Buckminster Fuller scholars presents an innovative meditation on the man who urged us all to "do more with less."
DYMAXION PORTLAND
Monday, November 10, 7:30 pm
Ellyn Bye Studio, Gerding Theater at the Armory (Free and open to the public)
For more information: [email protected]| www.pcs.org