Addendum, 2016: this article was the first public announcement of the restoration of the Dymaxion Car. Since that time, the Dymaxion Car has been restored. For more information on the Dymaxion Car, see synchronofile.com.
The Dymaxion Car of R. Buckminster Fuller is being restored by the company Crosthwaite and Gardiner.
Dymaxion Car #1 was involved in a fatal accident, restored, and later accidentally destroyed in a fire.  Dymaxion Car #3 was was bought and sold many times (including being bought and sold by Fuller) and disappeared in the 1950s.  It may have been sold as scrap during the US-Korean war.  Two of the three Dymaxion Cars are lost forever.
Dymaxion Car #2 was produced by Fuller, Starling Burgess and the 4D Dymaxion Car factory in Bridgeport, Connecticut in 1933.  The company that produced the car collapsed in 1934 and Fuller relinquished the vehicle to his employees in lieu of wages.  It was discovered in California in the 1960s, having been abandoned.  Dymaxion Car #2 was later purchased for the National Automobile Museum in Reno, Nevada USA.  The Museum superficially restored the exterior of Dymaxion Car #2.  In addition to being displayed at the National Automobile Museum, it was displayed at the Museum of Science and Industry in Chicago in 1973 and the Whitney Museum in New York in 2008. Crosthwaite and Gardiner is now conducting a detailed restoration of the exterior and partial restoration of the interior of Dymaxion Car #2.
Trevor Blake of synchronofile.com has been providing essential research material on the Dymaxion Car to Crosthwaite and Gardiner since February 2009. C&G researcher Phil King wrote: "More and more details are slowly coming out from the archives and from people like yourself, but I must say your information has been the most informative and the most prolific so far. […] I know I keep saying it but your help has been fantastic and you have made a difference."
synchronofile.com has been granted the great honor of announcing the restoration of the Dymaxion Car - because our readers are now invited to help in the project.  Can you identify the manufacturer for this component?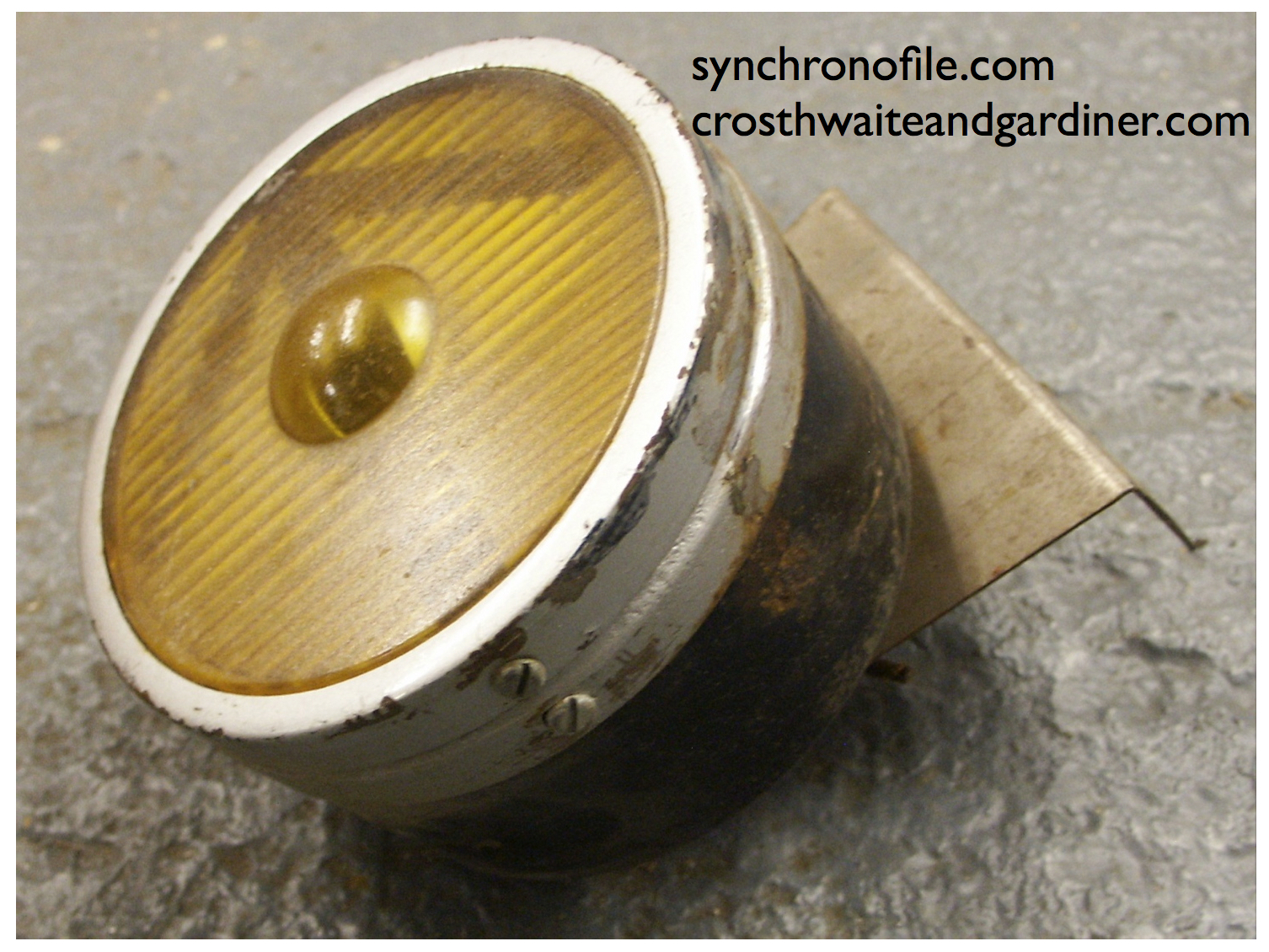 These three photographs depict a component of Dymaxion Car #2.  In the US they are called 'turn signals.'  In the UK they are called 'indicators.'  It may have been manufactured for a trolley (UK: tram) or a bus.  If you can identify the manufacturer for this component please send your answer to Phil King of Crosthwaite and Gardiner at the address below.  Say synchronofile.com sent you - and watch this space for further announcements…
- Trevor Blake
Trevor Blake is the author of the Buckminster Fuller Bibliography, available at synchronofile.com
Resources:
---
---